Award winning audience segmentation campaign, delivering the most relevant messaging to healthcare professionals, academics and students.
The conference held by The Union, the leading international society for tuberculosis and lung disease, is the world's largest gathering of health practitioners, policymakers, researchers and advocates working to end the suffering caused by lung disease, with a focus specifically on the challenges faced by low-and lower-middle income populations.​
Objective: ​
Drive Union World Conference delegate registration numbers to exceed the membership number of 1,300. ​
Generate registration income in excess of 1 million Euros. ​
Amplify the conference messaging to a wider audience, above and beyond The Union membership, increasing the impact of the conference. ​
Increase global participation by targeting key audiences in countries outside of the EU and North America. ​
Position the conference as a flagship Union activity with key stakeholders and raise the profile of The Union accordingly. ​
Audience Identification and Implementation
With client input and existing data, we built targeting frameworks to reach the relevant profiles ​for the campaign made up of behavioural and demographic data points by geographical region.
As a starting point we were also able to build out lookalike profile segments from previous ​conference attendee profiles, while we also retargeted profiles who had visited the site but​ hadn't completed the registration process with additional messaging.​
As the audience, globally ​was so diverse, both culturally and by specific interest, we activated 32 different message variants, split into two creative​ groups.​
​The variation was managed ​across each of Facebook, ​LinkedIn and Twitter, within each ad group by platform, making it possible to optimise to activity a very granular level.​
The graphic below displays the "new​ progressive and literal image" variant which we persuaded the client to test and run.​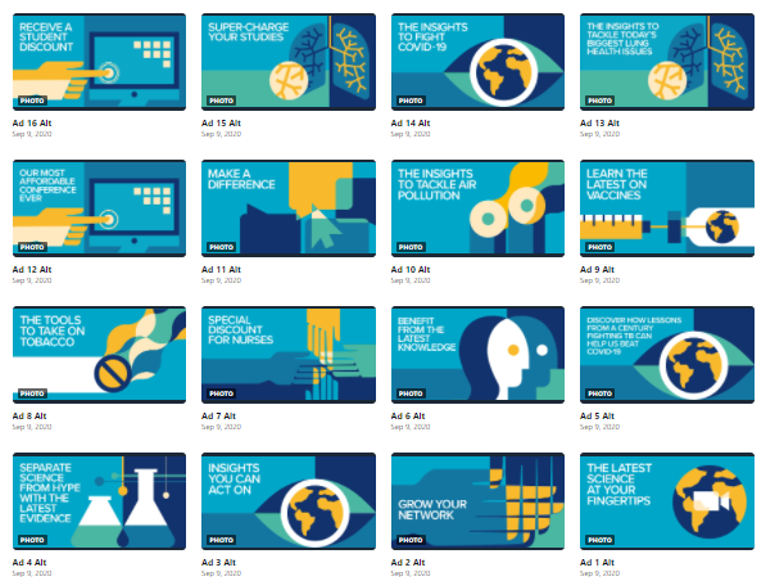 The next graphic displays the, "traditional Union variant", based on the Union's long standing creative communications, we activated as a second campaign strand.​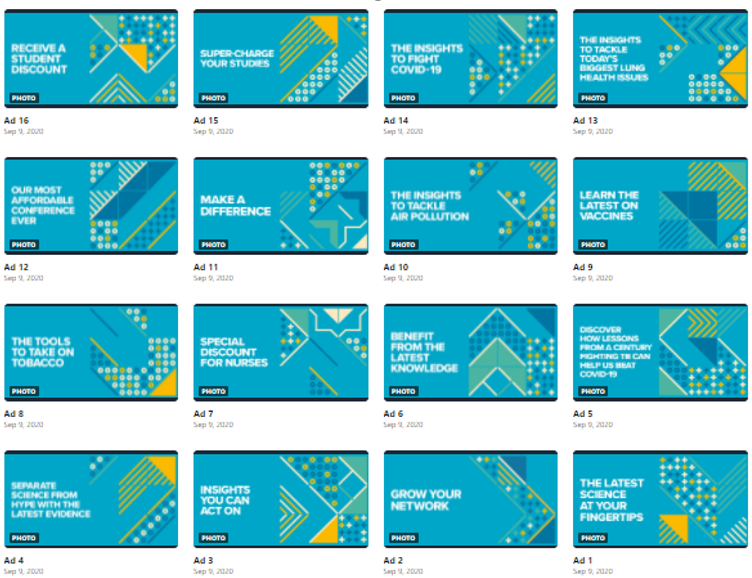 ​Although, the two creative variants carried in most cases the same calls to action, we discovered through analysis that older more senior audience segments engaged more readily with this creative set. Younger, more junior health care professionals had a higher engagement rate with the newer "literal" creative execution displayed on the previous slide. This distinction allowed us to optimise delivery towards specific behaviour.​
Within the ad sets there was a further mix of video and image led social creative, focusing on specific subjects to gain traction with diverse and specific audience segments and their interests.​
Registration revenue 120%
Attracted 407% participants
62% participants were from non EU and North American countries​
Over 35,000 new target profiles were driven to the campaign destination during the course of the campaign, broadening the reach of the conference message (Google Analytics)​
User landings were of high quality with an average session time of 1 min 44 sec and a very low bounce rate of 27% (Google Analytics)
"The team at Route were able to come up with and put into action a digital media plan at short notice. They quickly understood our need and delivered results beyond our expectations. Their knowledge and support was invaluable in producing a successful and important conference."​ David Jackson, Director Conferences and Events​
Not only was this campaign successful in generating event revenue and delegated for The Union but it also gained industry recognition by winning the 2022 Northern Digital Awards.